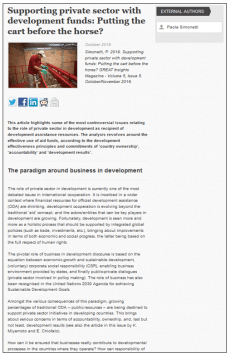 Policy highlights:
Increasingly, development is regarded as a holistic process that goes beyond the traditional 'aid' concept and that must actively include the private sector. As a result, growing percentages of traditional overseas development assistance (ODA) (public resources) are destined to support private sector initiatives in developing countries.
Research shows that this paradigm shift can have very negative effects: donors are using development aid to further the interests of their national companies, rather than to target the needs of the poor. It is, therefore, vital to establish mechanisms to ensure that businesses really contribute to development processes and to guarantee a minimum level of public accountability when using aid funds or other public resources.
In order to achieve sustainable development based on rights and democratic governance, policymakers should: 1) adopt assessment criteria for private sector interventions in development (such as democratic ownership, accountability and development results; 2) increase the responsibility of donor governments in shaping policies in order to manage aid flows in line with development effectiveness commitments; 3) promote social dialogue (among employers and workers' representative organizations) to achieve the accountability of business and their ownership of development policies.