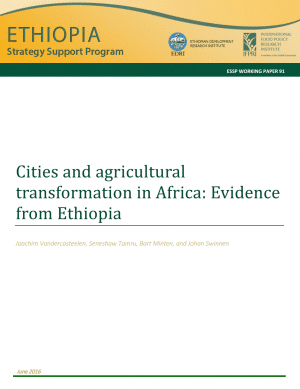 Policy highlights:
Africa is characterized by rapid population growth together with increasing urbanization. Agricultural transformation is seen as key to tackling these demographic challenges. Although rising demand for agricultural produce provides opportunities for farmers, very little is known about the extent to which the impact of growing cities on the livelihoods of farmers living close to these cities differs from those that live further away from the cities.
Data from farmers who produce the local food crop 'teff' around Addis Ababa differs significantly from the same data from teff farmers located further away from the city.
Farmers close to Addis Ababa generally receive higher wages and pay higher land rental prices than those further away, and they also receive a higher price for their teff produce. This gives them a greater incentive to intensify production. Consequently, the use of modern inputs, land productivity and labour productivity were higher among farmers close to the urban centre.
Farmers that have lower transportation costs had more incentive to increase production, which emphasizes the need for investment in infrastructure to ensure agricultural transformation.
Overall, these findings show that proximity to urban centres is an important determinant for agricultural transformation.