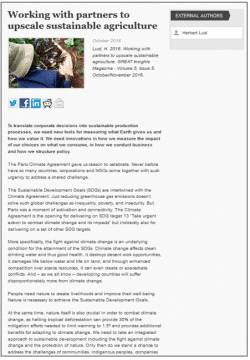 Policy highlights:
Climate change affects clean drinking water and health, destroys employment opportunities, and can create or exacerbate conflict. Because developing countries suffer disproportionately from climate change, the fight against this phenomenon is a precondition for the attainment of the SDGs.
Engaging with the private sector is essential to fight climate change, because corporate activities largely determine the management of natural resource and the mode of production of agricultural commodities.
To achieve sustainable agricultural development policymakers are advised to: 1) establish productive partnerships with private sector stakeholders; 2) invest in research to identify interventions that increase agriculture's resilience to climate variability and shock; 3) upscale interventions with proven positive impact by creating a demand for such measures (e.g. sustainable agricultural commodities); and 4) stimulate companies to assume responsibility for creating demand for sustainably-produced products.