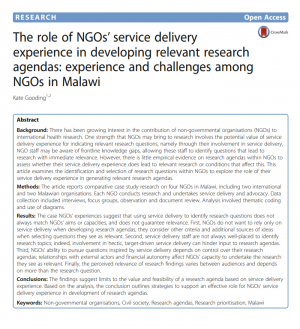 This article examined the role of NGOs' service delivery experience in supporting relevant research. The findings suggest that the value and feasibility of drawing on NGOs' service delivery to develop research agendas varies depending on the research aim and organizational context. Recognizing different aims, potential difficulties and enabling conditions can help in the understanding whether or not, and how, to draw on NGOs' service delivery experience in identifying research questions. In particular, the findings suggest that ideas from service delivery should be considered alongside other criteria and other sources of research questions, and that service delivery practitioners may need support to identify topics from their experience. Further, NGOs need adequate freedom and funds to pursue research agendas they see as relevant, and promoting relevance depends on the steps taken throughout the research process.
The following recommendations are proposed as steps for NGOs, academics and donors to consider in identifying research questions:
Recommendations for NGOs:
­Do not restrict identification of research questions to internal consideration of service delivery experience. Consulting with other stakeholders and target audiences, such as the government, can help ensure that research questions have wider relevance and that existing reports are not duplicated.
To support relevance, consider processes at different stages of research, not just the identification of questions. The relevance of findings depends on, for example, the specific research design, producing research of sufficient quality to meet research aims, and using dissemination approaches that explain the significance of findings.
Recommendations for NGOs and academics working with NGOs to develop research agendas:
­In seeking valuable input to research agendas from service delivery staff, consider the following steps:
Given that staff may find it difficult to formulate questions, try asking about problems they are encountering, rather than research questions.
Exposure to wider discussions and experiences sometimes helps with the identification of research topics by challenging assumptions about current practices and supporting awareness of wider debates.
Service delivery staff may be unaware of existing research that could answer their questions, and consequently the topics they suggest might not be research gaps. Supporting staff to become familiar with existing research can avoid duplicating existing research and help fill knowledge gaps.
Research training may help staff to identify research questions, by supporting appreciation of research, providing time to think about research, and assisting with the formulation of research questions.
Giving programme staff responsibility for identifying research topics may encourage their input. However, depending on existing skills, this may need to be balanced with support to to identify appropriate topics.
Recommendations for donors:
To ensure that ideas drawn from NGOs' service delivery experience can be considered in their research agendas, ask NGO partners about their research priorities and discuss funding research on these topics.