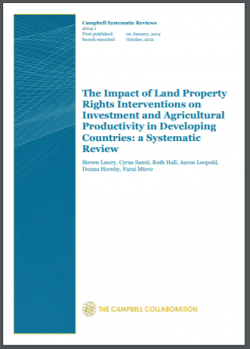 Policy highlights:
Land rights are key to improving wealth, agricultural production, food security, gender and other inequalities and governance processes in developing countries. Property right interventions are intended to promote land right security, but evidence of their effects is mixed.
Tenure reforms may have negative effects if they fail to take account of social hierarchies. In such cases they could exacerbate gender inequalities by further limiting women's access to land or result in displacement of the poor.
Since customary tenure arrangements provide higher tenure security in Africa than in other developing countries, demands for interventions that promote formalization of land rights is low. In Africa, factors other than tenure insecurity are more significant in causing low levels of agricultural productivity, including small farm size, dependency on off-farm income and the high costs of agricultural labour.
Policymakers should consider and assess a variety of models appropriate to regional and national contexts when designing tenure interventions. More evidence is needed to adequately match the type of reform to the context.