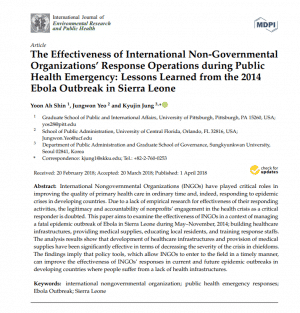 Lessons learned from the 2014 Ebola outbreak in Sierra Leone
This article aims to examine the effectiveness of international non-governmental organizations (INGOs) in managing the fatal epidemic outbreak of Ebola in Sierra Leone from May–November 2014.
Policy highlights:
The findings present practical implications highlighting the role of INGOs in building effective interagency communication and collaboration in response to epidemics. INGOs should be closely connected to timely risk information, which is mainly issued as well as transmitted by government agencies. 

The findings also highlight the pivotal role played by INGOs as a bridge between government agencies and residents, which enables them not only to access risk information, but also to facilitate proactive and response actions to mitigate further transmission. 

To improve the current response systems, response activities during a crisis should continue after the crisis, so that the changes brought about by the systems, especially training for community leaders and public education programmes, can continue to strengthen the community mitigation and preventive plan.

 

However, most INGOs cease their activities when the outbreak is terminated due to a lack of resources. Hence, the new established healthcare centres established by the INGOs are abandoned due to lack of continuous management of the facilities and medical supplies. 

While governments obtain financial support from international organizations or other countries through multilateral agreements, local non-profits depend mainly on philanthropic foundations and the private sector. 

While small local non-profits have developed local knowledge and mutual trust with residents over a long time, they have fewer chances than INGOs to obtain funding from philanthropic foundations and the private sector. 

Responders' understanding of the local context, including culture, norms, and values, is critical in developing collective efforts from residents. Local non-profits that have already established tight relationships with local residents may effectively provide services through newly established healthcare centres, while also providing public health education. 

INGOs may reinforce these local non-profits with technical and financial assistance. International organizations may consider ways to develop and sustain relationships with local non-profits for a long-term disaster response operation in developing countries.