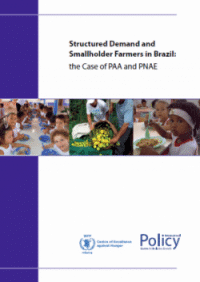 Policy highlights:
Structured demand (connecting large and predictable agricultural demand with supply by small farmers) is seen as the explanation for Brazil's success in fighting hunger and extreme poverty. Here, economic liberalization has excluded many smallholder farmers from the development process and led to a focus on commodity crops instead of food crops, creating a mismatch between food production and supply.
Brazil's Food Acquisition Programme (PAA) and National School Feeding Programme (PNAE) create structural family-based demand for agricultural products and include smallholder farmers in existing market mechanisms.
In the period 2001 to 2011, poverty in Brazil was drastically reduced among those self-employed in agriculture (poverty dropped by nearly 49%, while extreme poverty dropped by 60%). However, farmers are still over-represented among the poor and extremely poor (8.4% of farmers are extremely poor and 21.8% are poor, compared to 6.5% and 13.2%, respectively, for the general population).
This implies that structured demand can be used to reduce risk and poverty and improve the quality of produce, food systems and wages. However, when introducing structural demand programmes, consideration should be made of the low level of education among farmers, which makes access to markets more difficult. Secondly, programme adaptability should be considered an advantage. For example, it may be necessary to develop a legal framework during the course of a programme to fulfil the requirements of structural demand.
Please find an article about the PAA as it was implemented in Africa here.