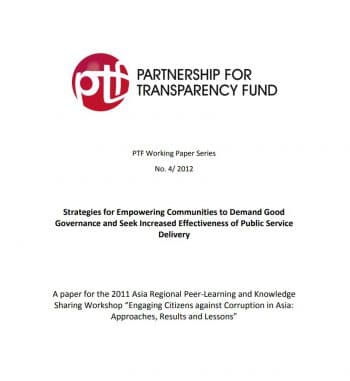 Policy highlights:
The article highlights how demand for good governance strategies, and especially social accountability strategies, can be used by citizens to increase authority responsiveness. Examples of such tools include (amongst others) citizen report cards, public expenditure tracking services, access to information laws and tools, community score cards and social audits.
Four strategies are commonly used to empower beneficiaries to improve results in service delivery.

Awareness through transparency and information: This strategy uses the increasing awareness of rights and benefits through transparency of and access to information. A best practice of this strategy was used in India where community-based information campaigns on school performance had an overall positive impact on teacher presence and teaching efforts by teachers in three states.
Participation through voice: This strategy includes the beneficiaries' voices in design, implementation, monitoring and evaluation within the provision of public services. Most used tools are face-to-face-dialogue instruments, multi-stakeholder committees, public hearings and participatory budget formulation. A best practice example of this strategy was the engagement of participatory budgeting by 14,000 local residents which led to the identification of 1,000 priorities for action on urban services, of which 600 were incorporated in the development plan.
Accountability through third party monitoring: This strategy uses mechanisms for third party monitoring by reports on execution of programs, projects and services. Independent monitoring may be done by specialized professionals, beneficiary groups and local actors. A best practice from Kenya showed how social audit tools established a feedback loop between fund managers and citizens who demanded proper use of money and services.
Responsiveness through grievance redress: This strategy involves beneficiary feedback and grievance redress mechanisms to encourage responsiveness. Tools used to establish this include hotlines, web pages, beneficiary committees etc. A best practice from Andhra Pradesh, India, showed how the use of community scorecards has resulted in significant improvements in health services.

In order for the demand for good governance strategies to work, certain enabling conditions should be in place. These conditions are public access to information, a reasonable amount of media freedom, space for civil society, notional acceptance by a service provider of accountability to beneficiaries and receptivity to citizen participation. In order for their citizens to be engaged, policymakers are encouraged to take into account and help enable these conditions.