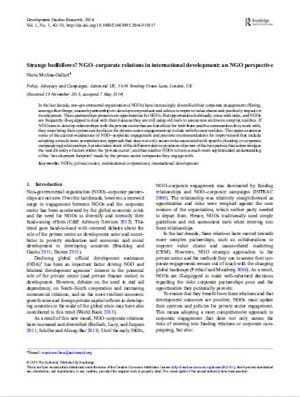 Policy highlights:
Over the last decade NGOs have diversified their corporate engagement through research partnerships, private sector philanthropy and NGO–corporate campaigning. Weaknesses in NGO–corporate engagement do remain, largely because of power imbalances between relatively small NGOs and partner multinational corporations.
A new model of engagement with private sector organizations is needed. This should assess:

vital characteristics of intended partners, including for instance their track record on human rights, compliance with key principles of development effectiveness, involvement in tax evasion and lobbying practices;
the type of private sector company (global, domestic, medium, small, micro);
expected outcomes and risks before engagement, including quantifiable and non-quantifiable outcomes.