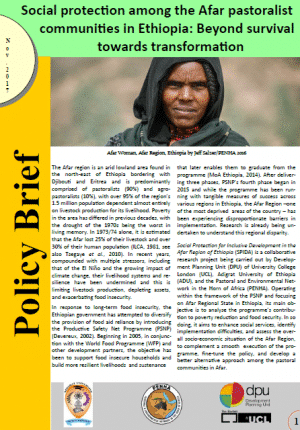 Introduction
The social protection in the Afar region of Ethiopia study assesses the impacts of social protection interventions on ensuring social security, enhancing livelihoods and reducing economic problems in the Afar Region of Ethiopia. In particular, the study assesses policies and practices already in place, such as the Productive Safety Net Programme (PSNP), and to create alternative policy options that ensure inclusive development to speed up the process of livelihood improvement among the Afar pastoral communities.
Findings
The Afar communities experience multifaceted challenges which are inseparable from extremes of weather conditions especially drought.
Food shortage in the Afar adversely affects both the people and their livestock.
There is a general lack of suitable infrastructure including electricity and sanitation facilities.
There has been an increase in access to education and healthcare
Policy recommendations
The PSNP should be expanded to include new-born children and to take account of polygamous households.
There is a need to understand regional differences to ensure that the PSNP interventions are appropriate and relevant for the Afar lowland communities.
Informal social protection networks among the Afar communities characterised by kinship networks and obligations should be taken into consideration in the design of the PSNP.
Other interventions to complement the PSNP such as supplying provisions for livestock are crucial to sustain people's livelihoods in the Afar.
There is a need to emphasise on alternative income generation strategies due to prolonged droughts and harsh environmental conditions.