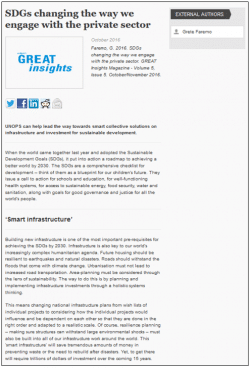 Policy highlights:
Building new infrastructure is one of the most important prerequisites for achieving the SDGs by 2030. However, if it is to contribute to sustainable development, this new infrastructure needs to be 'smart', i.e. able to withstand environmental shocks.
To realize the SDGs by 2030, measures need to go beyond development aid, government funding, or national private sector funding. Large-scale private investments are required, such as pension funds that have adopted goals for high-sustainability investments. However, such private sector actors are often reluctant to invest in low and middle-income countries, especially when it comes to providing basic services to the poor.
In order to attract large private investors, policymakers must lower the risks and obstacles, for instance by: 1) pooling funding from private investors into social impact investment funds; 2) using aid money as a loss guarantee, instead of directly paying for infrastructure, thereby leveraging the money to increase investment; and 3) reassuring investors by implementing projects through trustworthy and experienced development organizations.