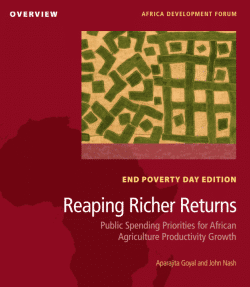 Policy highlights:
Improving agricultural productivity in Sub-Saharan Africa remains an important strategy for reducing poverty, enhancing inclusive growth, and promoting structural transformation in the region.
To catalyse agricultural growth, governments are advised to invest in: 1) generating knowledge and technology (most importantly R&D); 2) disseminating knowledge and building human capital by financing extension, training, and information services that transfer knowledge and skills to those engaged in agricultural production; 3) reducing transaction costs (e.g. by creating better infrastructure); and 4) attracting private capital (e.g. by establishing public-private partnerships).
In addition to increased financial support for the agricultural sector, to maximize impact governments should ensure that public spending is combined with efficient implementation. Recommendations for policymakers include, among others: 1) formulate a more detailed investment plan, including guidance on spending priorities and implementation practices; 2) accompany implementation with a monitorable results framework and allocate budget for adequate evaluation; 3) put in place concrete mechanisms to strengthen accountability; 4) transform top-down budgeting institutions into more participatory organizations to ensure transparency and pro-poor measures and empower citizens.