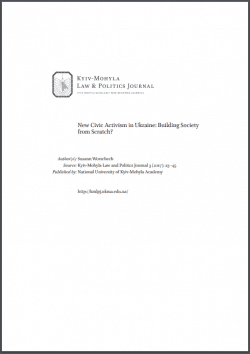 Policy highlights:
This article explores whether the increased civic engagement in Ukraine, since its Euromaidan revolution with nationwide protests in 2013–2014, contributes to democratization by providing deeper insight into the characteristics and networks of new civic movements.
In the past, civic actors did not succeed in translating their efforts into changing larger decision-making processes in Ukraine. However, after the Euromaidan revolution, civil society became more interconnected with society due to increased volunteering and higher public regard for civic organizations. Nonetheless, risks remain, including: 1) Ukraine still being in a patriotically-charged situation, in which nationalistic groups could develop in an 'uncivil society', 2) civil society taking over state functions, which could legitimize the government, but may also create tension if the state wants to take back these functions, and 3) civic space could be instrumentalized by other strong interest groups, like oligarchic networks.
Post-Euromaidan, the civic space in Ukraine adapted to the new demands and issues by: 1) building (new) trust networks, 2) functioning as a platform for trust networks and civil initiatives, and 3) increasing the focus on volunteering and participation. Nevertheless, the watchdog function of civil society seems weak, as humanitarian issues and military defence are still at the forefront of the civic agenda in Ukraine. Important tasks for civil society in Ukraine are to diminish inequalities in access to power and exclude autonomous power centres from political influence.
Looking ahead, there are some obstacles to the development of civic space in Ukraine: 1) civil society outsourcing central state tasks may lead to political disappointment among those who are investing their time in activism, 2) CSOs are highly issue-centred and are currently not working towards a long-term policy-oriented civic space, and 3) activist groups may evolve into comprehensive power centres themselves, given the high-profile reputation of volunteer movements in Ukraine.
Overall, the political impact of the post-Euromaidan civil society is found in compensating for state failure, rather than in democratization. Therefore, policymakers are encouraged to: 1) keep encouraging the democratization of civil society in Ukraine, 2) promote cooperation in civic networks by contributing to social capital and counteracting societal disintegration, and 3) invest in more stable ties between civic and political actors to integrate Euromaidan's political ideas into politics.