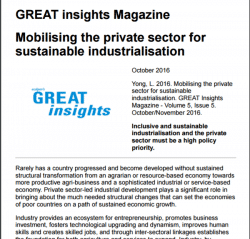 Policy highlights:
Private sector-led industrial development is crucial for inclusive and sustainable economic growth in Sub-Saharan Africa. As such, the private sector should be actively mobilized to take up a central role in efforts towards poverty reduction and the achievement of the SDGs.
For the private sector to drive such inclusive economic growth, government measures are needed to: 1) address market failures; 2) foster a favourable business environment; and 3) create a system of trade incentives.
In addition to implementing such measures, policymakers are advised to invest in establishing partnerships with the private sector. To encourage such partnerships the United Nations Industrial Development Organization (UNIDO) has developed a new assistance package: the Programme for Country Partnership (PCP). The PCP brings together actors through a multi-stakeholder platform to coordinate and optimize the contribution of each. The PCP is already being implemented in Senegal and Ethiopia. The first outcomes are very encouraging in terms of sustainable industrialization and inclusive economic growth.