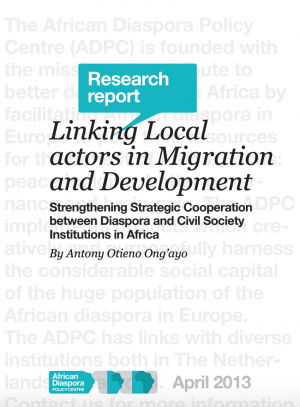 Policy highlights:
This working paper explores the relevance of civil society participation in migration issues in Africa. The author argues that civil society organizations (CSOs) of different persuasions are critical players in development processes in Africa and that although CSOs are experienced in dealing with the local context and local development challenges, the extent to which they can take up migration as a thematic area depends on their capacity to deal with trans-local issues.
The agendas of CSOs are often shaped by donors, so the inclusion of migration in their activities requires a thematic re-orientation, which calls for measures that recognize their potential in this area, as well as a paradigm shift in the current policy debates on migration and development in Africa.
While a number of initiatives at global and regional levels seem to recognize the importance of a multi-stakeholder approach in dealing with migration issues, few make direct reference to CSOs. Despite the widely-acknowledged development potential of diaspora organizations in their countries of origin, little effort has been made to address the disconnect between CSOs and diaspora organizations in terms of their participation in migration policy processes in countries of origin.
Policy and intervention frameworks that acknowledge the diversity of actors, while at the same time facilitating the convergence of interests and consolidation of interventions, are more likely to contribute to the success of migration and development initiatives.
Recommendations on how to foster strategic partnerships between local CSOs and diaspora organizations include:

Efforts should be made at regional, national and local levels to construct a shared vision and coordinated strategies among defenders of migrants' rights in Africa and the diaspora. This should entail cooperation between all significant actors in the field of migration in Africa, with African CSOs playing a leading role in the mobilization of different groups.
In order to build a Pan-African platform for African CSOs, there is a need for inter-actor regional and national linkages to address the dimensions of migration that have both local and regional characteristics. This should entail a process of targeted capacity-building initiatives with a focus on: strengthening CSO oversight in relation to migrant rights; promoting information exchange; and adopting collective advocacy for the ratification, implementation and enforcement of conventions that apply to migration matters.
Dialogue should be promoted, including advocacy for those who are displaced due to climate change, conflict or violation of their right to land and food or their political and economic rights. There is also a need to establish a consultation and dialogue framework for local CSOs and diaspora organizations aimed at finding synergies in order to unleash the full potential of these groups in the field of migration and development.
Effective advocacy tools need to be developed that focus on the formal link between migration, development and human rights issues in political and policy arenas, both at national and international levels. These initiatives should target platforms such as the World Social Forum on Migration, the Global Forum on Migration and Development and the UN High-level Dialogue on Migration.
In order to change the discourse on migration in international platforms, there is a need for improved knowledge on migration issues among CSOs in Africa through active partnerships between civil society in Africa and the African diaspora in the rest of the world.