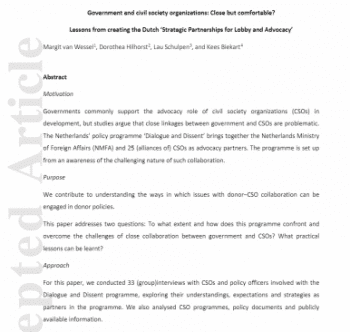 Lessons from creating the Dutch 'Strategic Partnerships for Lobby and Advocacy'
Policy highlights:
This article looked at: (1) how and to what extent the Dialogue and Dissent programme of the Dutch Ministry of Foreign Affairs (MFA) confronts the issues involved in advancing the advocacy role of CSOs through CSO-government collaboration, and (2) what can be learnt from this in terms of how donors and CSOs can work together to advance CSOs' advocacy role.
The research found that Dialogue and Dissent has the potential to advance CSOs' advocacy role in multiple ways. First, the programme builds in space for dissent, which the MFA protects formally and informally. Second, the programme has space for flexibility and relative equality between the government and CSOs, allowing for the adaptation of activities in changing conditions and the development of collaborative relations.
Although these features positively address mutuality and institutional pressures, challenges remain. This can be partly explained by the fact that some of the challenges are rooted in wider organizational and political realities, going beyond management of the partnerships and the policy framework. These pressures stem from organizational practices of a managerial nature within the MFA, external political pressures and conflicting government objectives.
Another reason why these challenges remain under-addressed concerns the question of whether or not CSOs are in fact 'the voice of the people', which is a basic premise of the programme. This research found that this challenge is highly complicated.
These findings yield several important lessons with wider significance:
Mutuality in government-CSO relations can be advanced by building in formal conditions (flexibility in planning and reporting, and guaranteed space for dissent) and advancing these informally.
Mutuality takes shape over time, as partners negotiate a range of dimensions, cognizant of the pressures surrounding alignment on topics, agendas and perspectives; capacity in terms of expertise and time; personal and organizational partnership ambitions; visions of the contributions to be made; and the management of risk.
While the existence of a policy framework and commitment among actors directly involved are important, it remains unclear whether they can overcome challenges arising from factors beyond the control of the government agency responsible for the policy. Merely a policy, goodwill and implementation of a programme under the policy is unlikely to be effective in countering such challenges. It is, however, important to acknowledge these wider realities and engage with them in policy development and implementation.
Public engagement deserves more attention as a crucial foundation for CSOs' advocacy role.