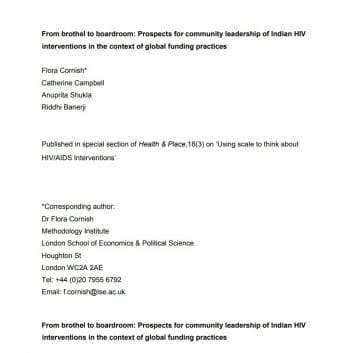 Policy highlights:
Empowering marginalized communities to lead local responses to HIV/AIDS is a key strategy of funding agencies' globalized HIV/AIDS policies. Social marginalization and disempowerment are at the root of group vulnerability to HIV and therefore, policies explicitly advocate a group's participation and empowerment in the intervention process. This article explores how the funding system may bring unanticipated and undesired consequences within HIV/AIDS projects.
Often, adaptations to the intervention design are necessary due to contradictions between what is locally appropriate and what the funder expects. Funding policies are prescriptive regarding official project structures, activities and reporting, which doesn't match reality. The interventions will prioritize the local, revealing their scope for ignoring or interpreting their funders' project designs.
Although the funding agencies' written policies advocate CBO leadership, the managerial practices required by them ask for professional qualified staff. Therefore, NGO-CBO pairs in an organizational form emerges as a response to these contradictory demands.
There is also a continuing reliance on project founders. The original highly-educated middle class project founders remained an important presence and represented the authority of the global funders, assessing whether the work of the project was meeting the required criteria. Also, the founders interpret these requirements for the projects and translate them into locally-relevant actionable strategies and language. Lastly, the founders sought to cultivate the NGO-CBOs awareness of their public image and how to manage it. The continuing presence of the project founders is an adaption to the complex and changing funding environment which calls for significant policy-mindedness.
Local sex workers are empowered in relation to their local red-light areas, hospitals and police station. However, they stay disempowered in relation to the funding environment, illustrating the limits on leadership by sex workers.
Donors should consider the extent to which their own procedures and practices fulfil their aims. Projects should be able to adapt the funders' requirements to suit the local setting. Turning written policies into concrete practices is always a matter of interpretation and funders should facilitate such interpretations. Donors should create opportunities to invite sex workers to participate meaningfully in the world of disbursing and making policies. By incorporating community organizations into professional service providers governed by the same limiting practices as large government or charity programmes means losing the very localism that made them attractive in the first place.