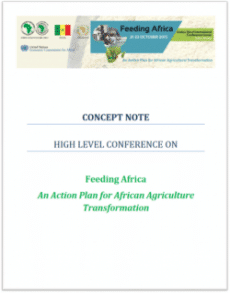 Policy highlights:
Africa is the world's most food insecure region. Yet, on average, its agricultural sector accounts for 63% of rural household incomes and 25% of African GDP. Thus, underperformance of this sector relates directly to national poverty.
The development of agriculture faces a number of challenges, including: 1) limited use of modern agro-inputs and mechanization; 2) limited access to credit; 3) weak access to markets; and 4) a lack of gender inclusiveness.
With undeveloped arable land that is equivalent to 25% of the world's fertile land and an estimated growth of agricultural output from USD 280 billion per year to USD 880 billion per year by 2030, there is great potential for Africa's agricultural development. This offers opportunities for increased jobs, greater prosperity and reduced hunger.
To unlock this potential, African agriculture needs the right agenda, backed by an enabling policy and regulatory environment. Key priority and investment areas are: 1) efficient input delivery systems; 2) innovative lending programmes for farmers; 3) strong value chains; 4) mechanization; 5) agricultural enterprise processing zones; 6) youth in agribusiness programmes; 7) new policy interventions to develop agriculture for export; 8) regional agricultural trade; 9) climate change mitigation; and 10) institutional capacity strengthening.