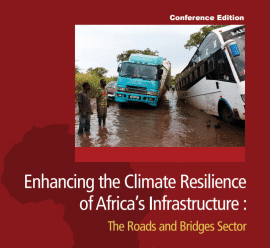 Policy highlights:
Africa's economic growth is highly dependent on the continent's infrastructure services, including road networks. However, climate change has great and increasing implications for Africa's road connectivity.
This report identifies the steps that must be taken to minimize the risks to infrastructure associated with climate change. These risks include direct damage to existing roads, demanding additional and costly maintenance, and substantial system disruption (i.e. interrupting the flow of goods and people).
To minimize the impact of climate change on roads, policy makers are advised to: 1) incorporate climate change in road asset management, with a particular focus on institutionalizing regular road maintenance; and 2) invest in road design that addresses climate change, leading to higher up-front investments but providing long-term resilience and less disruption.
The report also provides recommendations for specific organizations or authorities. For instance: 1) the African Union could develop guidelines for road design to be implemented by country level project developers; 2) national ministries of finance could identify critical road networks in existing systems and establish priority status for climate risk for those infrastructure segments; 3) construction firms could learn basic techniques of climate risk assessment, and identify options in design, materials, and construction methods to improve resilience at lowest costs.