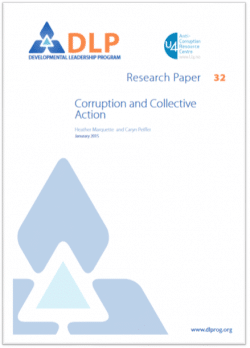 Policy highlights:
This research paper highlights how significant investments in anti-corruption initiatives over the past 15 years have failed to succeed, with most systemically-corrupt countries considered to be just as corrupt now as they were before the anti-corruption interventions.
Effective anti-corruption initiatives are difficult to achieve, especially in weak institutional environments, because they require insights from all three of the following perspectives:

Corruption as a principal-agent problem: This perspective highlights the role of individuals' calculations about whether or not to engage in, or oppose, corruption; the influence of transparency, monitoring, and sanctions on those calculations; and the technical challenges involved in monitoring and sanctioning corrupt behaviour.
Corruption as a collective action problem: This refers to the relevance of group dynamics, including trust in others and the behaviour of others, in individuals' decisions. When corruption is seen as 'normal', people may be less willing to abstain from corrupt acts or to take the first step in implementing sanctions or reforms. This highlights the challenges involved in coordinated anti-corruption efforts.
Corruption as problem-solving: This perspective highlights the fact that corruption can be a way of dealing with deeply-rooted social, structural, economic and political problems.

For anti-corruption efforts to be effective, the following needs to be considered:

Effective anti-corruption initiatives will be driven by the context, not the theory. Different perspectives on corruption may be useful in particular contexts and circumstances.
Collective action problems are sometimes deliberately crafted and maintained to undermine the effectiveness of institutions meant to challenge corruption.
Effective anti-corruption initiatives need to recognize and engage with the real political dynamics that underpin corruption, as well as address the perception that corruption is 'normal'.
Understanding the functions that corruption performs and trying to provide alternative solutions is an important first step in any anti-corruption intervention.
Coordinated action is important in addressing corruption. The most pressing collective action problem may be not corruption itself, but the formation of a strong coalition that can coordinate efforts to tackle it.