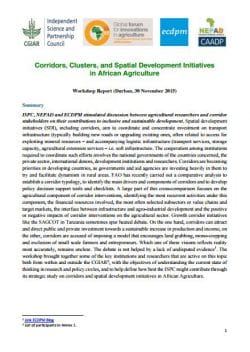 Policy highlights:
Spatial development initiatives (SDIs) are large external investments in infrastructure. One specific type of SDI that is increasingly popular in developing countries is the 'corridor', which aims to facilitate socioeconomic benefits for deficit regions and smallholder farmers or SMEs.
Much remains unknown about whether corridors actually drive agricultural development. It is claimed they can attract and direct investment for a sustainable increase in production and income; they are also said to encourage land grabbing and monocropping and exclude small-scale farmers and entrepreneurs. Which of these is a true reflection of reality remains subject to debate. It is recommended that the private sector takes a leading role in acquiring a better understanding of the past and future social, economic and ecological impact of these spatial initiatives.
Landscape, integrated water management and value chain work can be helpful in addressing the implications of SDIs for agricultural growth, employment, biodiversity and the availability of natural resources, especially where corridors go through areas with vulnerable ecosystems, poor infrastructure and weak institutions.