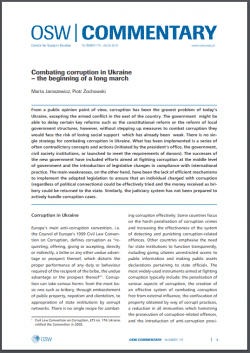 Policy highlights:
This article analyses the complex issue of corruption in Ukraine. Although the change in power in Ukraine has abolished some of the corruption structures associated with the old government, corruption is still a major issue.
The new Ukrainian government is attempting to combat corruption with legislative and institutional measures: 1) a new government agenda has been formulated with an entire chapter devoted to anti-corruption, 2) the National Anti-Corruption Bureau has been established, and 2) a lustration law and other anti-corruption laws have been put in place. However, there has been a lack of efficient mechanisms to implement the new legislation to enable any individual charged with corruption to be effectively tried. The judiciary suffers from similar weaknesses and has not been prepared to actively handle corruption cases.
Civil society has played an encouraging and critical role in addressing corruption in Ukraine by: 1) taking an active part in the new legislative work on anti-corruption, 2) analysing and publishing information on suspicious assets owned by public officials, and 3) raising society's awareness of corruption. This role of civil society has positively translated into awareness of the problem among the political elite and made it a priority for the current government.
Policymakers are encouraged to continue fighting corruption at the operational level, meaning that they should focus on implementing, as well as maintaining, the legislative changes. The two-pronged measures (institutional and legislative) are a start to combat corruption, but policymakers are encouraged to look critically at the functioning of these measures. Civil society can continue to play a role in creating awareness of the effects of actions by policymakers, as long as policymakers keep providing space for civil society to contribute to awareness on this important issue.