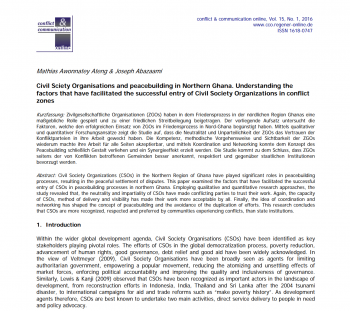 Policy highlights:
This article analyses the significant role played by CSOs in promoting local-level peacebuilding in Northern Ghana.
The neutrality and impartiality of CSOs has led conflicting parties to trust them as mediators. The idea of coordination and networking has shaped the concept of peacebuilding in Northern Ghana and helped avoid the duplication of efforts. Further, CSOs have the necessary capacity, resources and skills, as compared to local government agencies, to undertake conflict prevention activities and can work in areas and talk to people that governments cannot reach. This can make CSOs more recognized, respected and preferred by communities experiencing conflict than state institutions.
Although CSOs should play a supportive role and are not a substitute for peacebuilding by the state, because of their prominent work on peacebuilding in Ghana, governments should see them as a valuable and relevant actors in peacebuilding.
However, the authors noticed that respondents questioned the efforts of CSOs when they took too long to show results or when results were not achieved at all. This seems peculiar to activities such as socialization, capacity building, mediation, education and peace campaigns.
The crucial question is, therefore, whether the impact achieved by CSOs is related to the way activities are conducted or to contextual factors beyond the control of CSOs. Issues such as the activities of the state, the nature of the conflict, the media landscape, donor conditionalities and political activism could influence the results of the work of CSOs.