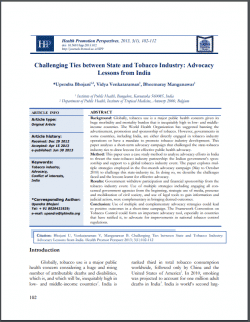 Policy highlights:
In this article, the Institute of Public Health Bangalore (IPH) presents a case study based on a short-term advocacy campaign in India. The campaign successfully challenged sponsorship and support by a government agency for an event organized by the global tobacco industry. The IPH coordinated nationwide collaborative multi-channel advocacy effort. Combining different and complementary advocacy campaigns with diverse groups of stakeholders (with different perspectives) was crucial in achieving success.
The effect of an advocacy campaign is dependent on the context and the traits specific to the problem being addressed. For example, in this case: 1) it was not easy for the general public to relate to an issue of sponsorship-led tobacco promotion by the tobacco industry, 2) IPH observed that emerging competition among regional television news channels provided an opportunity to secure media slots (the context can also be used as a strategic advantage), and 3) due to conflicting mandates, maintaining a cordial partnership with the government was challenging.
More generally, the programme showed that: 1) With administrative and political advocacy actions, government agencies should be involved from the beginning and throughout, as it increases the understanding of government departments' conflicting mandates and actors' strategic potential. 2) When using media advocacy, framing the issue, timing, targeting, factual information, linking journalists with potential commentators/experts, and fostering individual relationships are important. 3) In legal advocacy campaigns, the use of a court directive can support both immediate outcomes and long-term policy change, and provide a clear judicial interpretation of the issue. Continuous interactions and close partnerships with lawyers to expand and exchange knowledge are useful, while combining different strategies can help shape the legal arguments and evidence. 4) Mobilizing NGOs and community groups strengthens advocacy efforts and provides continuity (one of the organizations continued to initiate public enquiries). Framing the issue in different ways appeals to diverse NGOs. Finally, even targeted and limited community engagement is crucial in projecting the issue as a concern for general public, rather than specific groups.