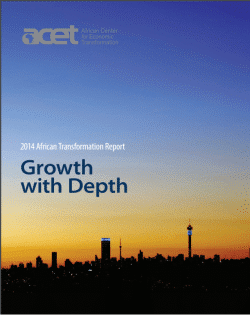 Policy highlights:
To make Africa truly competitive, less dependent on foreign assistance and more resilient to shocks, its economic transformation is essential. Growth with 'DEPTH' – diversification, competitive exports, increased productivity, upgraded technology, and improved human wellbeing – is advised.
In the pursuit of growth with DEPTH lessons can be learnt from countries that have already transformed (e.g. in South America). Strategies that may be adopted are: increasing state capacity, establishing public-private partnerships, building technical knowledge and skills, and promoting exports and tourism.
These strategies must be translated into practical policy actions that will vary across countries, regions, and business sectors. Specific examples include: 1) administering ports and customs and controlling corruption; 2) establishing 'centres of excellence' for others to emulate in the public service; 3) investing in programmes to develop more labour-intensive industries; 4) promoting high-quality and easily-accessible education on all levels; 5) upskilling workers by providing additional training that matches market demand; and 6) harmonizing regulations to facilitate faster and cheaper cross-border trade.