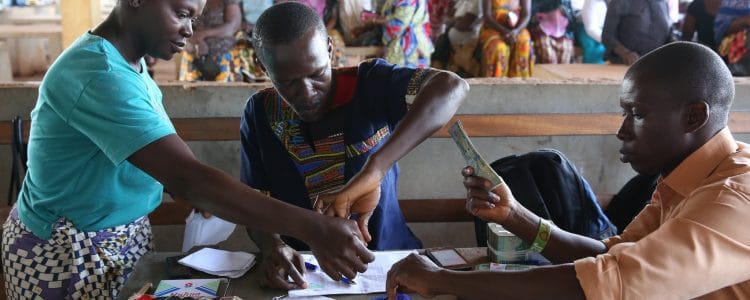 FAO and UNICEF have recently launched a new book called 'From evidence to action: The story of cash transfers and impact evaluations in Sub-Saharan Africa'. This book provides a detailed account of how cash transfers have expanded dramatically in the past two decades to become a key social protection tool, improving consumption, school attendance, health, food security, productive activities and agricultural investment. The editors provide insights into how impact evaluations of cash transfer programmes are conducted, the importance of the evidence produced, and the ways in which this evidence informs broader social protection policy and programming processes in Ethiopia, Ghana, Kenya, Lesotho, Malawi, South Africa, Zambia and Zimbabwe. In this expert opinion, Benjamin Davis – one of the editors of the book – outlines the most important policy messages.
Virtually every nation in Sub-Saharan Africa has some kind of cash transfer programme in place, designed to address the specific development needs of that country and accelerate progress towards the social protection target contained in SDG 1.3. These programmes are a key way of protecting vulnerable individuals and households from poverty and hunger and helping them to build resilience.
Until now, much of the known evidence on the impacts of cash transfer programmes has been from conditional programmes implemented in Latin America. The impact evaluations presented in this book, through eight case studies of Sub-Saharan countries (Ethiopia, Ghana, Kenya, Lesotho, Malawi, South Africa, Zambia and Zimbabwe), have helped build the credibility of the social protection sector and strengthen the case for social protection as an investment, while also addressing public concerns around transfers and supporting learning around programme design. Over the last decade, strong collaboration among national policymakers, development partners and researchers has led to changes in national and regional policy narratives around social protection and increased interest and ownership at the top levels of government – facilitating the decision to scale up cash transfer programmes, particularly in Zambia, Ghana, Kenya and Lesotho. The editors provide insights into how impact evaluations are conducted, the importance of the evidence produced, and the ways in which this evidence informs broader social protection policy and programming processes in each country. However, the real merit of this book is that it chronicles how cash transfer programme impact evaluations have fed into the policy debate and improved programme implementation in each country.
Until recently, social protection programmes in Sub-Saharan Africa were rarely evaluated with a focus on the economic and productive outcomes for beneficiary households and their broader communities. Unconditional transfers effectively allow households to invest money according to their own specific needs, contributing to a broad range of social and economic impacts. Evidence shows that they not only increase household wellbeing, but also play a critical role in supporting families and communities to protect and invest in their children's future by purchasing enough and better quality food and overcoming financial and social barriers to health and education, as well as avoiding difficult and sometimes harmful choices such as sending children to do dangerous work. The evidence also shows that cash transfers can facilitate a safe transition to adulthood by addressing extreme poverty and inequity, which act as economic drivers of behaviours that increase the risk of HIV infection for many adolescents and young adults. Moreover, cash transfers enhance the economic and productive potential of beneficiary households, even among the poorest and most vulnerable. Families who receive cash transfers generate savings, finance their businesses, increase asset ownership, invest in more productive and income-generating activities, and improve risk management capacities. Moreover, cash transfers impact on the wider community by stimulating local demand for goods and services, generating multiplier effects and bolstering local economies and growth. Research shows that each US dollar transferred to an eligible household generates between US$1.27 and US$2.52 more in income in the local economy in each of the countries studied. Cash transfers can be linked to livelihood interventions and, thus, potentially serve as an important complement to a broader rural development agenda, including strategies targeted at poor, small family farmers with a focus on agricultural transformation.
This book also dispels a number of popular myths about cash transfers: Cash does not lead to dependency or working less; in fact beneficiaries of cash transfer programmes invested in agriculture and worked more on their own farms. The cash is not spent on alcohol or cigarettes; it is spent on food and children's necessities. And, cash transfer programmes do not displace informal community risk sharing mechanisms, but in fact strengthen these informal safety nets.
The expansion of cash transfers in each of the country studied has followed a unique course through a process of interplay among the government, civil society and international development partners. In many cases, robust impact evaluations have played a key role in moving cash transfer initiatives from donor-funded pilots to domestically-funded national programmes. The role of research in influencing policy is dependent on a range of factors, which extend beyond the empirical findings of the research itself. These factors can be: interaction between policymakers and the evidence generation process, the framing of the evidence, linkages between evidence and existing policy issues, advocacy process and political ideology.
Through the impact evaluation named 'Transfer Project', FAO and UNICEF, in partnership with Save the Children UK, the University of North Carolina at Chapel Hill, national governments and research institutions, have established an innovative approach to carrying out impact evaluations on cash transfer programmes. The project recognizes the role of evaluations and learning agendas not only in 'assessing' programme results, but also in progressively strengthening their design and implementation to enhance impacts.
The book 'From Evidence to Action' can be accessed online
here
. Policy highlights of the book are available in INCLUDE's
knowledge base
.