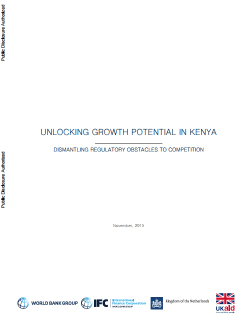 Policy highlights:
The regulatory system in Kenya is too restrictive, particularly for private businesses entering new markets. Removing restrictive product market regulations in Kenya's service sectors would result in an increase in GDP growth by at least 0.39 percentage points annually (equivalent to US$218 million in the first year).
The Kenyan government should revise the regulatory framework in four ways: 1) state-owned enterprises (SOEs) and pricing regulations should be non-discriminatory, and the impact of government activity on businesses should be assessed, 2) obstacles for start-ups should be removed to allow for more business strategy options, 3) barriers to international trade should be adapted in order to increase opportunities for foreign investors and businesses, and 4) an independent body should formulate pro-competitive regulations and facilitate the achievement of the 2030 Vision goal of becoming a middle-income country.
Specific recommendations are made for each sector on: 1) consumer protection, 2) addressing discriminatory regulations, 3) increasing consumer choice, and 4) price regulations and the promotion of foreign investment. Whether the formulation, revision or removal of regulations is necessary depends on the context of the specific sector.
In sectors where private sector companies have yet to enter the market, decreasing regulations is usually recommended. This facilitates an easier entrance to the market. In sectors that are dominated by one or a few key players, introducing regulations can increase the competitiveness of a sector. In most cases, a combination of the two is necessary to improve competition.