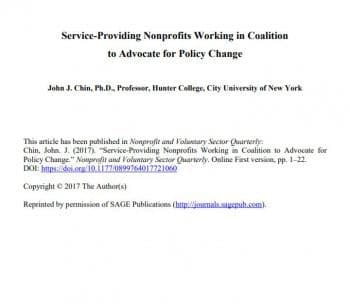 Policy highlights:
Non-profit organizations that focus on providing social or health services can play an important role in policy advocacy. This article explores how and why these organizations participate in policy advocacy based on a case study of an urban immigrant health policy advocacy coalition made of service-providing non-profits in New York City.
The service-providing non-profits provide insight on a daily case level, which makes them legitimate and progressive advocates for their clients. They also gain credibility by the ability to touch their communities and gain an immediate view of important gaps in the political system. Through their experiences on a day-to-day basis with their representatives, the non-profits generate unique contributions to policy agendas, especially at the policy implementation level.
The organizations do not see a conflict between their organizational requirements to survive and their social change objectives. So, the organizations saw both their moral and instrumental motives to be intertwined in a way that their organizational survival (instrumental) was necessary to sustain their services to clients (moral). This is similar for advocacy: at case-level and higher-level advocacy, they used both levels to advocate for interests of community members.
Other helpful aspects in supporting sustainable advocacy efforts included coalition of like-minded organizations, leadership by an experienced advocacy organization and dedicated foundation funding.
A recommendation for policymakers is to take service-providing non-profits seriously in their attempt to engage in policy advocacy because they can create a credible and legitimate case for their communities. They are able to provide a unique contribution to policy making so decision makers should value this as such.