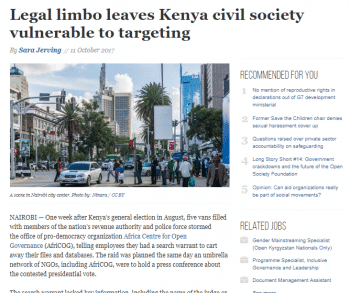 Policy highlights:
This article highlights the complexity of (shrinking) civic space in Kenya. This complexity, created by unclear regulation, allows authorities to govern their activities in such a way that limits opportunities for advocacy.
Several legislative efforts have created a legal limbo and climate of distrust: 1) the Public Benefits Organizations Act of 2013, which was meant to improve the laws governing NGO registration (and forced de-registration) and enhance dialogue, has not been implemented to this day, and 2) since passing this law, the government has attempted to restrict the activities of CSOs, with an Amendment Bill that limits the amount of funds Kenyan NGOs can receive from foreign sources to 15% (similar to Ethiopia's 2009 Proclamation to Provide for the Registration and Regulation of Charities and Societies).
Civil society has responded to these measures: 1) by adapting – many civil society organizations have tried to register using the legal category least vulnerable to pressure, and 2) by taking an active stance – voicing their concerns through existing platforms and persisting in their role as watchdogs, e.g. by monitoring elections.