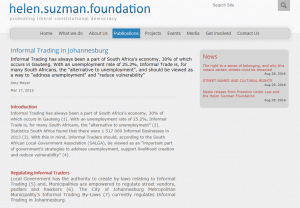 Policy highlights:
Informal trading forms an important part of South Africa's economy. With an unemployment rate of 25.2%, for many South Africans informal trade is the only alternative. Policymakers should not view the informal sector as a problem, but as instrumental in tackling unemployment and vulnerability.
South African local governments have the authority to regulate informal trade through special by-laws. These regulations are said to force informal traders out of business.
It is estimated that if informal trading were suppressed, South Africa's unemployment rate would rise by 20%. Moreover, informal trade contributes to the growth of the formal economy, which suggests that informal traders should be encouraged and aided instead of made illegal.
Policymakers should establish 'developmental informal trade laws' that create a balance between the need to regulate the informal economy and the need to support livelihoods.