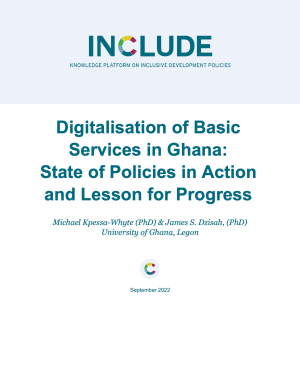 This paper is part of INCLUDE's latest research programme, "Digital divides or dividends: including basic services in Africa's digital transformation agenda". The programme has been designed to gather important information on effective digitalisation of basic services in Africa. The programme looks at which e-service interventions exist, which of these are inclusive of poor and vulnerable groups, and to what extent governments are facilitating the enabling conditions for digital transformation. To this end, INCLUDE aims to highlight good examples and extract valuable lessons from five country case studies: Benin, Ghana, Mauritius, Uganda and Rwanda.
This paper presents the case of Ghana, where initial efforts to digitalise began in the early 2000s and there continues to be wide consensus on the importance of digitalisation for service provision by all major stakeholders. However, only two regions host 73% of ICT establishments in the country, and just 35% of Ghanaians are internet users. Disparities in access, usage and participation exist across gender, age, education level and rural-urban divides.
You can download the full research paper from the link on the right.