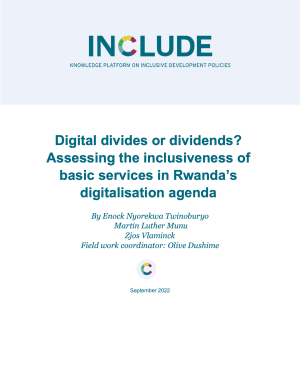 This paper is part of INCLUDE's latest research programme, "Digital divides or dividends: including basic services in Africa's digital transformation agenda". The programme has been designed to gather important information on effective digitalisation of basic services in Africa. The programme looks at which e-service interventions exist, which of these are inclusive of poor and vulnerable groups, and to what extent governments are facilitating the enabling conditions for digital transformation. To this end, INCLUDE aims to highlight good examples and extract valuable lessons from five country case studies: Benin, Ghana, Mauritius, Uganda and Rwanda.
This paper presents the case of Rwanda, a country that has shown exemplary leadership and policy commitment by promoting digitalisation since 2001 through 5-year ICT strategic plans. It has over 100 e-government services as part of a nationwide digital platform. Mobile penetration lies at 82% in 2020 and internet penetration was measured at 31,4% in 2021. However, digital literacy is lagging at 12% (men 15%, women 10%). Challenges remain related to inequality, participation, security and protection, language and literacy barriers, information infrastructure and lack of trust in the new system.
You can download the full research paper from the link on the right.