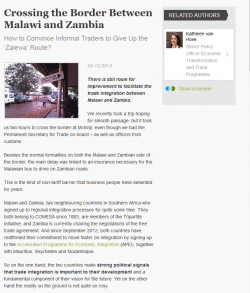 Policy highlights:
Even though Malawi and Zambia have been signed up to regional integration processes for quite some time, cross-border trading remains difficult.
A system is already in place to simplify life for small traders – the COMESA Simplified Trade Regime. While in theory COMESA benefits small traders, in practice it does not work well. It forces informal traders into the formal system, the system is not applied consistently, and it creates many administrative hurdles that are particularly costly for the smallest informal businesses.
Fruitful discussion between government officials of both countries and traders has resulted in a list of recommendations, including: The list of tradeable goods should be updated and broadened; unfair taxation on small traders should be eliminated or adjusted; registration bureaus should be decentralized; cross-border trade associations must be strengthened; a clear trade charter with rights and obligations for traders and custom officials should be formulated; special attention must be paid to women's rights as many informal traders are women.