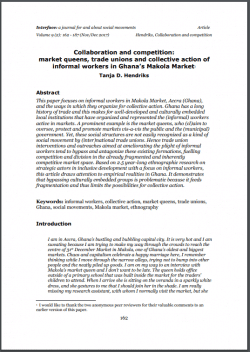 Policy highlights:
This article urges us to rethink the definition of 'strategic actor' in relation to informal workers' social movements. The case study describes how NGOs in Ghana identified a strategic actor, that aligned with their (democratic) blueprint, to form a labour union in a typical Ghanaian market dominated by female traders. The choice overlooked existing structures and, therefore, fuelled competition and fragmentation among informal market actors.
Ghanaian 'market queens' – female traders who rule a market and represent its traders to the outside world – have often been overlooked as strategic actors, because they are not 'properly' organized (according to democratic principles). Instead, they are appointed for life, do not hold elections and are not always politically neutral. However, market queens: 1) provide political representation and 2) conflict resolution, 3) organize social protection (e.g. through savings schemes and funeral arrangements), and 4) have a wide membership base (membership is 'automatic' for market traders).
In the case of the Makola market, supporting a democratic, formalized labour union, that circumvents the existing networks of the market queen had consequences, including: 1) conflict between the market queen and the labour union (with a political undertone) and 2) conflict over the allocation of (donor) resources. This, in turn, 3) limited the membership opportunities for the labour union and their organizational capacity and influenced the possibilities for collective action on a market-wide scale.
Informal markets are a complex phenomenon, in which concepts like illegality, regulation, formal boundaries and organizational forms are blurred and dynamic. Development practitioners should make sure they have sufficient knowledge of the context and be flexible in their approach. Linking up with existing movements can prevent the disruption of functional systems.