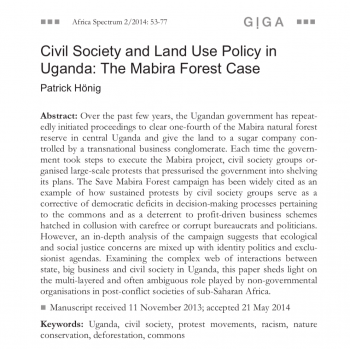 Policy highlights:
This article looks at the role of CSOs in halting the destruction of the Mabira natural forest for commercial reasons by the Ugandan authorities.
The Save Mabira Forest campaign has been widely cited as an example of how sustained protests by civil society groups can correct democratic deficits in decision-making processes and deter profit-driven schemes hatched in collusion with corrupt bureaucrats and politicians.
Contrary to the popular perception of the mobilization of CSOs, the campaign has drawn strength from a network of loosely connected civil society groups, rather than a continuous and sustained movement. It can be understood as a string of activist spells, each provoked by an individual motive to respond to government initiatives.
The author points out that, in this case, ecological and social justice concerns are mixed with identity politics and exclusionist agendas. He challenges the uncritical appraisal of civil society groups in Sub-Saharan Africa as democratic checks on neo-patrimonial regimes.
Although it is a popular strategy among activists to use political controversies to their own end, the portrayal of land use issues as a fight between 'good' and 'bad' creates binaries that are easily exploited by those involved in identity politics.
Irrespective of whether the Mabira Forest dispute sees business interests or community concerns prevail, the way in which racial stereotypes were played up in the campaign reveals a disquieting trend towards the fragmentation of Ugandan society.
Hence, the author points out that there needs to be a focus on an inclusive society, not only a successful campaign agenda, before civic activism can be hailed as supporting the democratic governance of the commons.