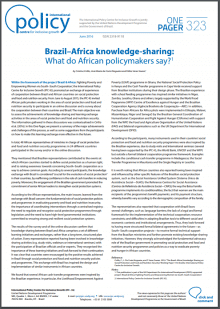 Policy highlights:
South–South cooperation and knowledge-sharing benefits Brazilian and African policymakers in achieving their common goals for social protection and food nutrition security. Lessons learned so far from previous interactions include 1) the fundamental role of social protection policies and programmes in eradicating poverty and food and nutrition insecurity, 2) the importance of coordinating interventions through a centralized registry, 3) the need to regulate and recognize social protection programmes through legislation, and 4) the need to have high-level governmental institutions committed to ensuring strong and resilient social protection systems.
The achievements of Brazil in the field of social protection and food and nutrition security policies have led to the (co-) design and implementation of other programmes, such as cash transfer programmes in Africa. Challenges identified by policymakers in terms of South-South interaction include language barriers, a lack of a legal and formal framework for the implementation of the technical cooperation, resource constraints and difficulties in adapting Brazilian tools to different social and economic contexts and institutional arrangements.
Implementing a more structured framework or bilateral agreement would allow for more institutional support for existing initiatives and technical development.
*Curated from socialprotection.org