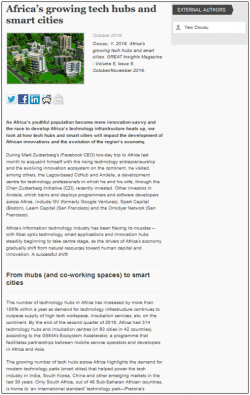 Policy highlights:
The drivers of Africa's economy are gradually shifting from natural resources toward human capital and innovation. Consequently, Africa's information technology industry is rapidly developing and the number of technology hubs has increased by more than 100% within a year.
The relative success of Africa's tech hubs highlights the need to scale up these mini tech hubs, for instance, by creating technology parks and so-called smart cities, which would facilitate technological developments in other fields, like energy, transportation and healthcare.
However, the development of Africa's digital economy is hampered by many factors: 1) limited education and skills development; 2) unreliable power supply; 3) poor quality broadband connectivity; 4) limited access to capital; and 5) insufficient government investment.
To promote and sustain Africa's smart communities several measures are needed: 1) financial investment by private investors for capital intensive tech-projects; 2) government investment in terms of capital as well as incentives like affordable land and tax benefits; 3) policies that foster a favourable business environment in terms of taxes, access to capital, permits and insurances; 4) partnerships with key industry leaders; and 5) the active involvement of the media to relay Africa's substantial technological progress to the rest of the world.