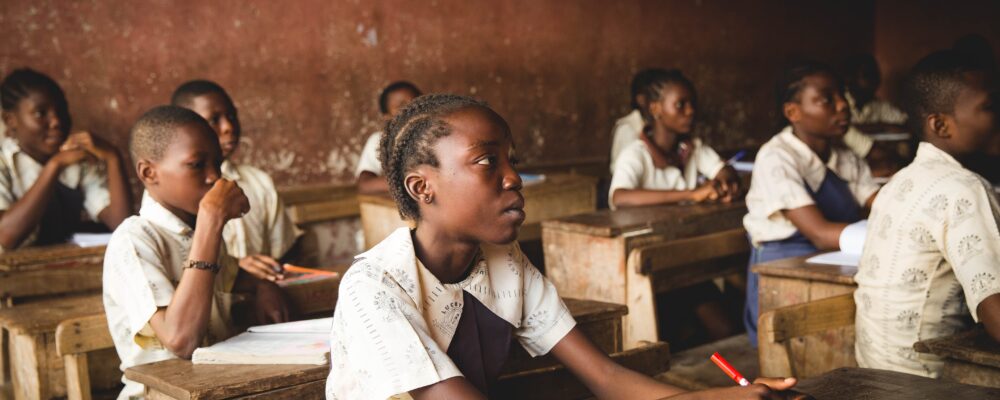 COVID-19 has caused the largest disruption to education systems in history. Closures of schools and other learning spaces have impacted almost 1.6 billion learners in over 190 countries, representing 94 percent of the world's student population. As of mid-July 2020, over 1 billion learners worldwide were still affected by national closures, and this was proportionally much greater in low- and lower-middle income countries (80-85% of learners) than in upper-middle and high-income countries (35-40%) (Figure 1). In Africa, the pandemic has been superimposed on an existing learning crisis and growing inequalities in capabilities. The sudden increase in demand for remote learning has made the divides in digital infrastructure, teaching capacity and both basic and advanced skills clear and unavoidable. Despite numerous efforts to continue funding and delivering education remotely, gaps in access and quality have widened over the past 7 months. These trends threaten to reverse the progress made in education over the past two decades, and pose great risks to meeting the learning potential of current and future generations. More optimistically, if funded and managed well, new and pre-existing innovations have the potential to close divides and restore long-term human development.
Figure 1. Number of children affected by school closures globally, by development group (source: UNESCO,  2020)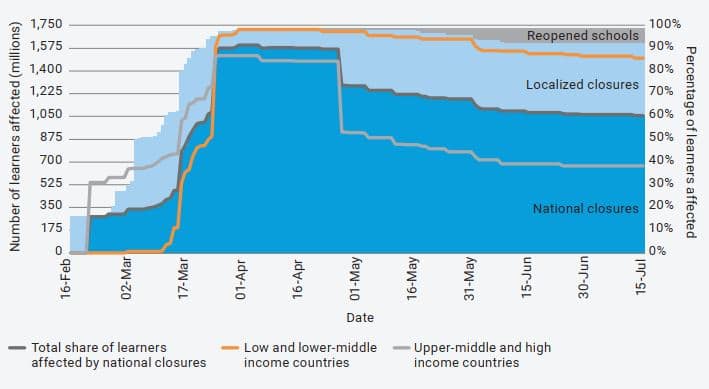 In line with our past thematic news items on COVID-19 policies, we share evidence on the interventions in education over the course of the pandemic so far, the impacts these interventions have had on vulnerable groups, and what this means for inclusive development (both within the education sector and beyond).
1. Responses to COVID-19 in the field of education
2. Impacts on different vulnerable groups
Despite the ramp up in the use of digital tools for learning, the effective out-of-school rate (the proportion of learners without opportunities to continue structured learning) in low human development countries was 86 percent in June, 4 months after the crisis began – levels not seen since 1985, and more than 4 times higher than very high human development countries (Figure 2). This is due to a stark digital divide as well as sociocultural factors which prevent the majority of learners in developing countries from accessing opportunities to learn outside the classroom, even when they exist.
Figure 2. Short-term effective out-of-school rate for primary education, Q2 2020, based on data for 86 percent of primary-aged children worldwide (source: UNDP, 2020)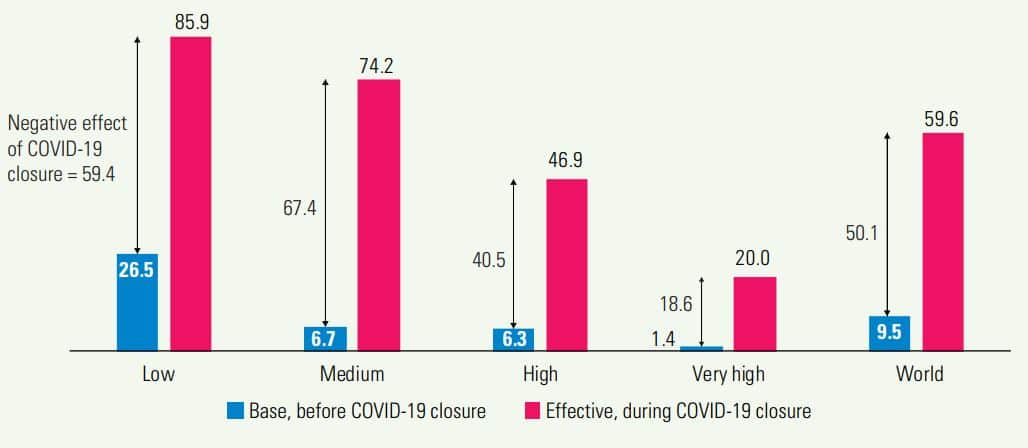 3. Impacts on longer-term inclusive development
If the current setbacks in education continue, it is predicted to erase the past six years of progress in human development, and cost $10 trillion through lost learning. However, it is not all doom and gloom. If equality in school access is restored, education systems would bounce back. In a scenario with more equitable internet access – where each country closes the gap with the leaders in its human development category – the decline in human development would be more than halved. There are many building blocks in place to achieve this, but equally many challenges to overcome.
Figure 3. Scenarios for the effective out-of-school rate for primary education, based on the equality of internet access (source: UNDP, 2020)