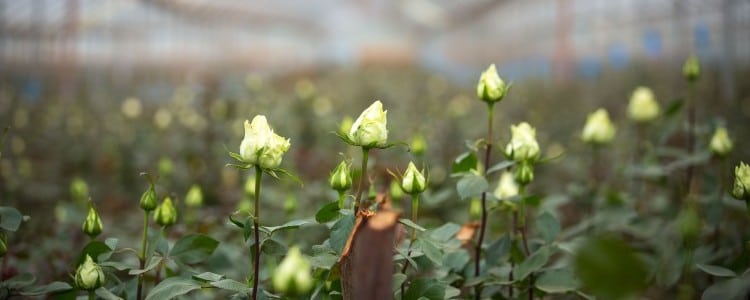 The flower sector in Kenya has the potential to play an important role in private sector development, the creation of productive employment and greater inclusion. However, there is a need for greater scrutiny of issues such as market saturation, overregulation and certification, as well as the role of trade unions. These are a few of the challenges identified by Agnieszka Kazimierczuk, junior researcher for the INCLUDE research project on the role of Dutch multinational companies (MNCs) in the promotion of productive employment in Kenya and Nigeria.
The Kenyan flower sector is a good example of how private sector development is linked to Dutch policies on promoting productive employment in developing countries. Since 2012, when the Minister for Development Cooperation and Foreign Trade, Lilianne Ploumen, announced a policy transition from aid to trade, private sector development has become the new buzz word. However, as Kazimierczuk found in her recent study, private sector development promotion is not new, but has taken a central role in Dutch development cooperation since its inception in 1967. Yet it is only since the 1990s that Dutch development cooperation has prioritized productive employment generation in developing countries and the corporate social responsibility (CSR) of Dutch companies operating abroad. Kenya was chosen for the research as one of the important partner countries of the Netherlands (with more than a hundred Dutch companies currently active in Kenya) and the only such country that has received continuous Dutch development assistance since the beginning of bilateral aid.
Map 1. Partner countries for Dutch bilateral development assistance 1962–2015
The development of the flower sector in Kenya, which was driven by Dutch companies in the 1990s, was possible because of the encouragement by the Dutch government to look for business opportunities abroad. However, the sector developed independently from Dutch and Kenyan states and did not benefit from any of the private sector development instruments available. The companies currently operating in the sector consist of small and medium enterprises (SMEs) and large multinational companies. There are virtually no smallholder farmers, with only a few exceptions, including a successful collective that was mentioned in a recent scoping study on Dutch flower farms in eastern Africa.
The sector has been important for the creation of not-yet-productive, but substantial, employment in Kenya. In total, floriculture generates about 90,000 jobs directly at flower farms and about 500,000 indirectly. Through backward linkages, the floriculture industry has an impact on over 2 million livelihoods (or 5% of the Kenyan population), according to the Kenya Flower council website.
Within the sector, the research project has distinguished three main activities: breeding (developing new varieties), propagation (multiplying by any process of natural reproduction from the parent stock) and growing plants. Growers provide the highest employment opportunities. Big flower farms employ in excess of 1,000 people, often on a permanent basis. More than half of these workers are women who are predominantly aged between 20 and 25 years, according to a 2012 report of the Kenya Human Rights Commission. Due to the nature of their work, breeders and propagators hire much fewer people, usually around a hundred. However, breeders contribute substantially to indirect employment creation.
With an overall perception of Dutch domination in the flower sector in Kenya (75% of which is rose production), it comes as a surprise that only 8.5% of rose growers are Dutch. Most Dutch companies are breeders, owning 40% of the total breeding market. Dutch flower companies are known for providing relatively good working conditions and decent pay. The salary for a 'regular employee' (for example, a rose picker) is higher than the country's legal minimum wage, but in most cases still does not match the living wage standard.
Table 1. Impact of Dutch rose companies on employment and their market share in Kenya
| | | | |
| --- | --- | --- | --- |
| | Number of Dutch companies | % of rose growing area/market | Employment created(average) |
| Growers | 15 | 8.5% | 1,000 |
| Breeders | 6 | 40% | 100 |
Source: Own calculations based on field data
Although already well established, the sector still faces many challenges that pose a threat to inclusive development, including:
Saturation: With more than 150 companies operating in the sector, the trend is to expand or acquire existing businesses, rather than start from scratch (especially because of the high entry costs). This leaves little space for the inclusion of smallholder farmers and new companies.
Overregulation and certification: The many different sector standards and lack of clear and often-contradictory regulations create fertile ground for corruption by the controllers. Furthermore, despite the many advantages of the various types of certification, obtaining a certificate is a costly process, beyond the reach of most small companies, newcomers and smallholder farmers who wish to access international markets.
Trade union: Corruption and nepotism in the high ranks of the flower industry trade union, negatively impacting on inclusiveness and the union's representation of the interests of all the members. This may lead to the mass dismissal of the employees, introduction of mechanisation processes (like in the tea sector) or relocation of the entire business to neighbouring Ethiopia.
Yes, the flower sector has the potential to play an important role in private sector development, productive employment creation and greater inclusion. However, there is a need for more scrutiny of the issues facing the sector. An attempt to analyse these issues will be made in the next stage of Kazimierczuk's research. Ultimately, it is hoped that this will lead to a number of policy recommendations for flower companies, as well as the Dutch and Kenyan governments.