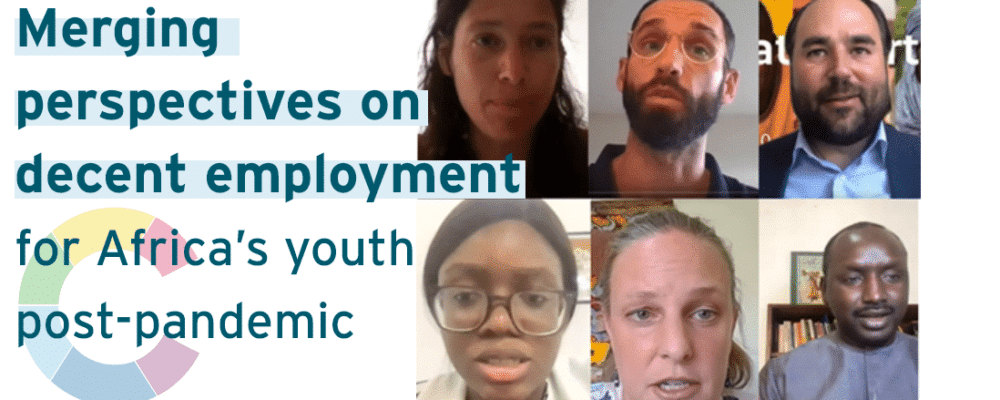 High level stakeholders from Dutch Ministry of Foreign Affairs (MFA), Institute of Development Studies (IDS), International Labour Organization (ILO), Mastercard Foundation (MCF) and Africa Continental Free Trade Area (AfCFTA) were gathered at a virtual roundtable to discuss on their views and experiences on decent youth employment creation post-pandemic. Chiamaka Nwachukwu, Coordinator of the African Union Youth Hustlers Program, moderated the session with great energy, facilitating interaction among the speakers and the audience.
Human economy
Among the biggest challenges, according to ILO, stands the indecency and informality of jobs available for youth in Africa. Drew Gardiner from ILO expressed concern about the million jobs that have been lost during the pandemic as due to the high number of informal jobs social protection is often lacking. In order to address structural youth employment challenges, Dr Cheikh Tidiane Dieye (AfCFTA) advocated for a 'human economy', through investment in structural transformation and bold economic policies. In fact, as agreed by Dr Marjoke Oosterom (IDS), the development narrative is steadily shifting from a youth unemployment crisis to a jobs crisis – focusing rather on structural transformation than on youth skilling and training. Looking at the future solutions, Shona Bezanson (MCF) stressed that there are great economic opportunities in the education sector – not only because we need more skilled youth, but because there is demand for qualified workforce in the sector.
Youth: co-creators of solutions
From a Dutch MFA policy-maker point of view, Ambassador for Youth, Education and Work Tijmen Rooseboom explained the focus on listening to young people to understand their needs and create the right enabling environment for decent youth employment. Indeed also the other panelists agree with Tijmen that youths need to be put at the centre, by involving them as co-creators of solutions. Dr Marjoke Oosterom suggested that youths involvement should be integrated in policy-making at the appropriate Ministries' levels. According to Dr Dieye there are great opportunities in the agri-food sector, particularly with a unified Pan-African market, and Drew Gardiner also stressed the importance of the digital economy – and the need for social protection in this sector.
Priorities
This session showed the complexity of both challenges and opportunities for youth decent employment post-covid: the pandemic has made the African job market tougher for youths, but also allows for policy-makers and practitioners to change the development agenda. Now the eyes are set on structural transformation through the three E's (education, economic growth and enhancing youth participation), and also the three Youth At Heart priorities: skills, jobs and the voice of youth.
Are you curious to learn more about this session? Watch the live-stream recording.
This news item was drafted by Maya Turolla for the Youth At Heart website of the Dutch Ministry of Foreign Affairs. Find the
original posting here
.