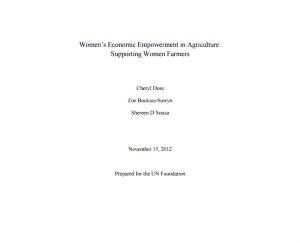 Policy highlights:
As women play an important part in agricultural production, their empowerment will impact the agricultural markets overall. As such, many development organizations have begun to integrate gender into their agricultural development projects.
Project seek to address the challenges that women farmers have been facing for years: Constraints in terms of cash, time (mostly due to household responsibilities) and rights to land and other resources. Given these multiple and interconnected constraints, combined with the fact that gender inequality is often part of the socio-cultural norms, integrated approaches are needed to successfully promote women's empowerment.
Based on evidence of projects aiming to empower women farmers, a number of practices can be recommended: 1) target women at different points in the agricultural production system and at different levels of integration into the market economy; 2) promote the establishment of women farmers' groups as sources of social and economic empowerment; 3) provide training to women that are accessible in terms of location, instructor and time commitment; 4) provide loans to ensure women's financial inclusion; 5) work with local businesses, governments, and community structures to implement the project; and 6) target women not just as individual farmers, but as a member of the household and the community; e.g. by providing training for both women and men on gender equality.