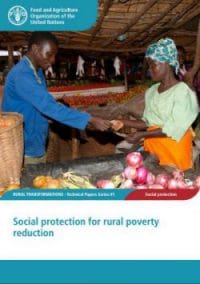 Policy highlights:
This study reviews four conceptual frameworks for social protection: social risk management, transformative social protection, adaptive social protection, and the social protection floor. In addition, it proposes a synthesised 'consolidated' framework, which illustrates how social protection can contribute to food security, rural development and poverty reduction.
The study shows that to raise or stabilize income, social protection policies and programmes should target three sources of livelihood: production, labour and transfers.
The fundamental objectives of this framework are promoting livelihoods to reduce poverty (promotion) and protecting livelihoods to reduce uncertainty (protection). Both objectives can be achieved using different instruments targeting production, labour and/or transfers, thereby contributing to rural poverty reduction and agricultural development for food security.
Evidence shows that despite many successes, social protection programmes do not solve issues of poverty and food insecurity by themselves. What is needed is an integrated systems approach that links the programmes to other interventions (e.g. in education and labour markets). To be effective, this should be done via national development plans in which agricultural policies are aligned with social protection policies.