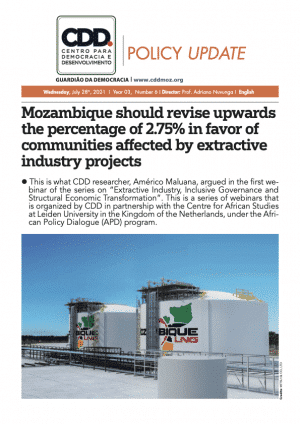 This report summarizes the key messages from the first webinar of the series on "Extractive Industry, Inclusive Governance and Structural Economic Transformation". CDD researcher Américo Maluana, argued that Mozambique should revise upwards the percentage of 2.75% in favor of communities affected by extractive industry projects.
Here some highlights from the webinar:
The context of revenues from the extractive sector in Mozambique 
The percentage of royalties from the extractive industry allocated for the development of the communities hosting large investments is determined by law. 

Mozambique has one of the lowest percentages (2.75%) in Africa and the world for transfer of revenues generated by the extractive industry to local communities.

Local communities benefit from oil revenues through projects aimed at building socio-economic infrastructure such as education, health, agriculture, forestry, public services roads and bridges, and water supply and sanitation systems.

Employment opportunities remain a key challenge to young people despite the revenues generated from extractive sector.

The government aims to maximize the benefits of the extractive industry through tax revenues, building of economic and social infrastructure, capacity building and the development of Mozambican companies to manufacture and supply goods and services.
Strategies to enhance benefits from extractive sectors firms  
Revise upwards the percentage of 2.75% in favour of communities affected by extractive industry projects.

The revenues generated from extractive industry projects should be used to enhance livelihoods of local communities and as conflict mitigation strategy.

Strengthen the right of citizens to participate in the extractive industry business

Enhance the efficiency, fairness and stability of sharing of extractive industry revenues by:  

Defining the objectives of sharing and aligning the revenue sharing system

Use of appropriate revenue sources and fiscal tools

Defining simple and enforceable revenue transfer formulas

Creating a degree of flexibility in the system

National consensus on the formula

Codifying the formula in the law

Formalizing independent oversight for transparency
Download the policy update by clicking the download buttons on the right.