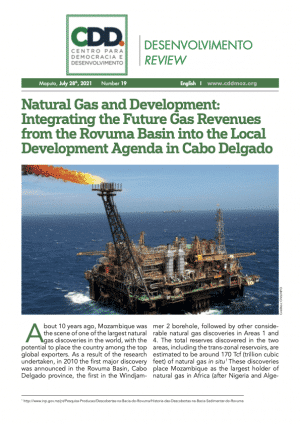 About 10 years ago, Mozambique was the scene of one of the largest natural gas discoveries in the world, with the potential to place the country among the top global exporters. However, resource-rich countries tend to have higher levels of conflict and lower rates of stability and economic growth. Mozambique already faces the risks of the resource curse, which can prevent resource exploitation from bringing benefits to local communities. This context raises the need for a deep reflection on the appropriate revenue sharing mechanisms for the integration of producing regions into the local development agenda. The experience of many African countries shows that problems in the management and revenue sharing of natural resources have been a major cause of violent conflicts.
Key findings 
Mozambique liquid natural gas reserves are the third largest in Africa and the 12 largest in the world

Development of natural gas reserves can contribute to the country's GDP through tax revenues estimated at $500 billion by 2045, dividends and other investments

However, potential contribution of natural gas projects to inclusive development is threatened by violent conflict, the management and revenue sharing of natural resources
Strategies to prevent a 'resource curse' and enhance inclusive development
Review upwards the percentage (2.75%) of extractive industry revenues that is transferred to the producing communities to mitigate the conflict in Cabo Delgado and catalyze the development agenda.

Establish an efficient, fair and stable sharing of revenues from the extractive industry through:

Clarity in the definition of the sharing objectives and alignment of the revenue sharing system with its objectives

Choice of adequate revenue sources and fiscal tools

Definition of simple and enforceable revenue transfer formulas

Creation of a degree of flexibility in the system

National consensus on the formula

Codification of the formula in the law

Formalization of an independent supervision
Download the report by clicking the download buttons on the right.