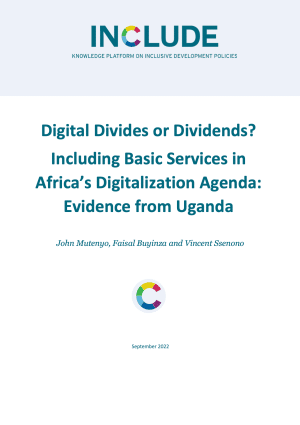 This paper is part of INCLUDE's latest research programme, "Digital divides or dividends: including basic services in Africa's digital transformation agenda". The programme has been designed to gather important information on effective digitalisation of basic services in Africa. The programme looks at which e-service interventions exist, which of these are inclusive of poor and vulnerable groups, and to what extent governments are facilitating the enabling conditions for digital transformation. To this end, INCLUDE aims to highlight good examples and extract valuable lessons from five country case studies: Benin, Ghana, Mauritius, Uganda and Rwanda.
This paper presents the case of Uganda, where the government developed a Digital Uganda Vision for universal inclusion, sustainable development, economic progress and poverty eradication through digital innovation by 2040. But insufficient access to electricity and the internet (only half of Ugandan households are served by the electricity grid, and only 9% of people living in rural areas have access to the internet), as well as a lack of digital knowledge and skills amongst citizens, results in under usage of digital services and threatens the 2040 vision.
You can download the full research paper from the link on the right.