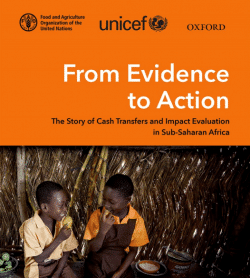 Policy highlights:
To improve effectiveness of cash transfer programmes in sub-Saharan Africa (SSA), it is not only important to understand the programmes' impacts, but also the processes that facilitate their continued improvement, such as evaluation and monitoring.
This book focuses on impact studies of cash transfer programmes implemented in eight SSA countries: Ethiopia, Ghana, Kenya, Lesotho, Malawi, South Africa, Zambia and Zimbabwe.
The policy-relevant conclusions include: 1) unconditional cash transfers lead to significant social and productive impacts on beneficiary households; 2) cash transfers make people happier and give beneficiaries hope, a precondition for families to want to invest in the future; 3) cash transfer programmes have a strong and consistent impact on school enrolment, resulting in an increase of 5 to 15% secondary school enrolment; 4) across all nations, cash transfers enhance food security and health levels; 5) cash transfers lead to improved ability to manage risks and have significant multiplier effects in the local economy.
Additionally, the study showed that a systematic and thorough impact evaluation of cash transfer programmes yielded positive results. Evidence showed that the evaluation: 1) built credibility of an emerging social protection sector; 2) strengthened the case for social protection as an investment; 3) informed programme improvements in key areas such as targeting, access, transfer size, and the role of complementary activities; and 4) shaped policy discussions beyond the national context and informed regional social protection agendas.