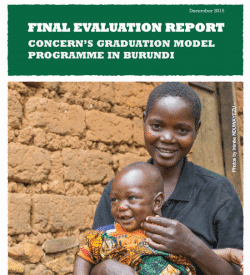 Policy highlights:
This paper presents an impact study of Concern Worldwide's 'Graduation Model Programme', which was implemented in two of Burundi's poorest provinces.
Beneficiary households received monthly cash transfers, capital for income-generating activities, access to savings, a mobile phone, and skills training and coaching, often in the form of behaviour change communication (BCC) disseminating messages about good practices around hygiene, nutrition, gender equity, and so on.
The programme yielded substantial impacts in three areas: 1) material (e.g. improved housing and sanitation facilities, and improved domestic and farming assets and livestock); 2) behavioural (e.g. increased school enrolment and use of formal healthcare, more use of contraception and more knowledge of HIV/AIDS); and 3) social (e.g. female empowerment in terms of intra-household decision making and increased participation of women in community institutions).
Research results can be translated into several recommendations for policymakers: 1) impacts largely levelled off after finalization of the project, hence, continued coaching and support is needed to ensure sustainable results; 2) the presence of case managers to support individuals, resolve intra-household conflict and provide mentoring is crucial for long-term success; 3) the complex and integrated interventions in graduation programmes require well-trained, engaged and, thus, adequately-remunerated staff.