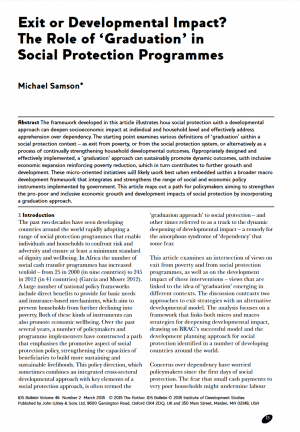 Policy highlights:
'Graduation' refers to exiting a social protection programme when either a certain time/age or level of social and economic development has been reached.
A review of social protection programmes identified three exit models for graduation from interventions: exogenous, endogenous and developmental. Exogenous models do not depend on poverty status, but rather on age or time. Endogenous models are adapted to specific vulnerabilities or the poverty status of participants and their progress. The drawbacks of exogenous programmes are that they are not tailored to recipients, while endogenous programmes may disincentivize recipients from making progress (graduating).
Developmental programmes do not necessarily involve an exit, but provide comprehensive benefits that create opportunities for human capital and other productive investment, livelihoods activities and employment. Such 'graduation without exit' programmes should combine both micro-level (e.g. specific skills training) and macro-level (e.g. social health insurance) initiatives to maximize developmental outcomes.