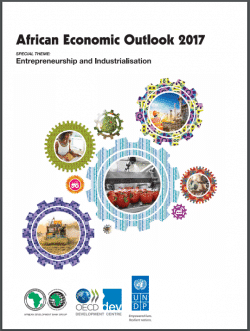 Policy highlights:
This 2017 edition of African Economic Outlook looks at the potential role of entrepreneurs in supporting industrialization, which has returned to feature prominently on Africa's economic policy agenda. This requires innovative strategies that: 1) go beyond sectoral approaches (beyond manufacturing), 2) include high-potential entrepreneurs (start-ups and small and medium-sized firms can complement the growth of large companies), and 3) promote 'green industrialization'(in which peer learning could be critical).
To foster growth, policymakers should: 1) diversify exports, increase intra-Africa trade, and implement regional integration, 2) foster employment and entrepreneurship opportunities (e.g. by addressing informality, environmental sustainability and the challenges faced by specific populations like youth and women), 3) support businesses and foster innovation (e.g. by expanding access to electricity and financing, and improving institutional accountability), 4) design strategies that remove constraints on high-potential entrepreneurs e.g. by strengthening skills and supporting business clusters), and 5) evaluate policies and their impacts.
Investing in human development and capabilities is just as important, as: 1) an integral part of advancing development (including poverty and inequality reduction), and 2) a platform for promoting productivity and entrepreneurship. With the support of a productive, skilled and entrepreneurial labour force, Africa will be able to harness its demographic dividend. So far, eighteen African countries have achieved medium to high human development, and the share of people living in poverty is falling. However, progress is slow and uneven, and the largest human development gap due to inequality can be found in West Africa. The SDGs, Agenda 2063 and African Development Bank's High 5s can help accelerate human development.