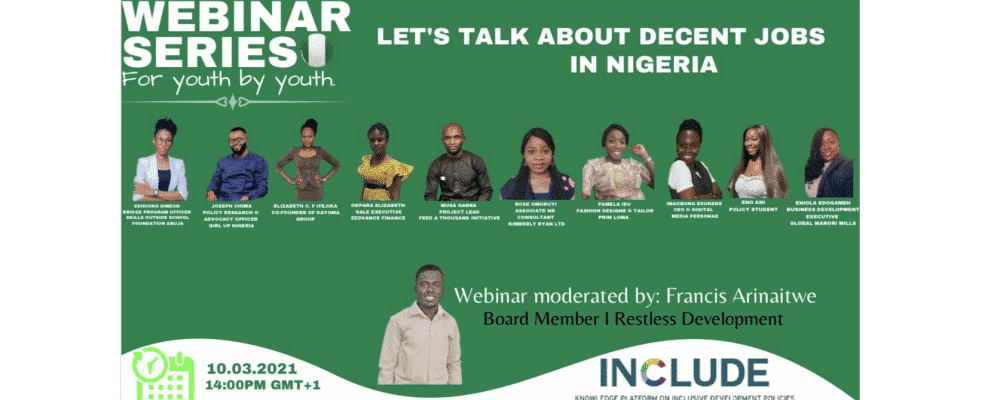 As we get closer to the end of the webinar series surrounding 'What and when is a job decent', we've given youth from Nigeria the chance to contribute to our ongoing discussion. Beyond what has been previously defined as a decent job, Nigerian participants shed light on the importance of employee's mental health. It is pivotal for employers to enhance the social and economic integration of people with mental health issues. According to Nigerian youth, a job is decent if there is a symbiotic relationship between the employee and employer which allows room for progression on both sides. Lastly, a decent job is one that does not infringe on one's personal time. 
Following the theme of our previous webinars, Nigerian youth spoke of the rampant unemployment phenomenon that exists in Nigeria. The expanding youth population exerts a further pressure on the issue of unemployment. There is a concerning trend that much of Nigeria's economic growth continues without any corresponding growth in job creation. This jobless growth impacts youth disproportionately, especially young women. In addition, the participants explained that Nigeria's developmental shortfalls are not only apparent in the lack of jobs, but also in the widespread poverty and the serious disparities between gender and income. Nigerian women are often concentrated in the informal sector, and do thrive occasionally. However, unlike their male counterparts, they struggle to find jobs that offer security and remuneration. The participants recognised the efforts that are being made to improve both the quantity and quality of jobs, but highlighted that such efforts remained fragmented and ad-hoc. Despite the challenges to youth employment, the participants talked about the potential for both young men and women to find decent jobs if effective policies are put in place. A recurring solution suggested by the participants was the need for the government to step in and enforce existing policies, create more jobs for youth and monitor decent jobs in both the formal and informal sectors. 
1. Is a decent job only possible in the formal sector? 
Whilst the informal sector plays an important role in the total economic growth in Nigeria, the environment of work remains precarious, hazardous and makeshift. Informal workers suffer from needless intimidation and harassment as regulatory controls remain uncoordinated. Since women are highly represented in this sector, they face serious predicaments. They contend with irregular working hours, dangerous working conditions, and lack of safety. The idea of having basic benefits is absent and a fantasy for most women working in this sector. The government's involvement in the formal sector is not at par with its involvement in the informal sector. Those working in the informal sector are seeking decent job opportunities, but despite this pursuit, it is difficult to describe the available jobs in this sector 'decent.' Especially when they equate a decent job with jobs in the formal sector. Most youth in Nigeria are obliged to take jobs for the sole purpose of survival rather than dignity. To address the lack of decency in the informal sector, the participants advocated for a move towards formalising this sector. 
2. Is 'decent job' different for men and women?
Women in Nigeria juggle their jobs with family work and responsibilities. Another significant issue faced by young women in Nigeria when it comes to accessing jobs is early marriages, especially those from poorer backgrounds. Early marriages open doors for early pregnancies followed by household responsibilities, thus stopping them from participating in the labour market. On a daily basis, the safety of women in Nigeria is severely compromised. Also the persistence of gender-based violence does not alleviate the pre-existing challenges they face within employment. Acquiring a decent job is difficult to achieve due to a lack of consideration for women's safety. Moreover, the participants stressed the importance of including the cultural divide in Nigeria when discussing decent jobs. A decent job can be limited by not only cultural stereotypes of women but also religious beliefs that don't advocate for women in the workplace. For example, women seeking jobs in the northern parts of Nigeria are obliged to cover up at work and adhere to the Islamic laws. Because of this young women and girls in the northern parts of Nigeria lag behind those in the south when it comes to finding decent jobs. This discussion highlighted the hidden nuances of the discourse surrounding decent jobs. It demonstrated the importance of taking a holistic approach when looking at decent employment in Nigeria. 
3. How has COVID-19 affected the narrative of decent jobs? 
Contrary to what has been said on our previous webinars, youth from Nigeria took a more optimistic approach when answering this question. Although the COVID-19 pandemic devastated the Nigeria economy and presented danger, it also provided more opportunities for innovation and creativity. The pandemic crisis and the desperation that came with it sparked creativity. Those who lost their job had to come up with creative ideas that could generate income. Whilst the pandemic brought an unparalleled shock to the labor market, it has also introduced new jobs. The participants highlighted the importance of this crisis as it urged the government to facilitate job creation and adopt a forward thinking approach. 
This webinar took place on 10th of March and was moderator by Francis Arinaitwe (board member, Restless Development), with contributions by: Edidiong Simeon (Bridge Program Officer, Skills Outside School Foundation Abuja), Edogameh Oluwakemi Eniola (Global Marori Mills Limited, Kaduna State), Eno Ani (Policy Student), Elizabeth C.F Ifejika (Agripreneur, Co-Founder, Dayoma Group), Imaobong Edukere (CEO & Digital Media Personae), Joseph Chima (Policy Researcher & Advocacy Officer, Girl Up Nigeria), Musa Garba (Project Lead, Feed a Thousand Initiative), Pamela Isu (Fashion Designer & Tailor, Prim Loma), Rose Omoruyi (Associate HR Consultant, Kimberly Ryan LTD).